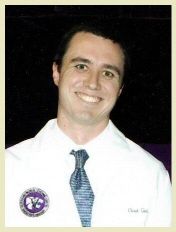 Dr. Chad Geri (pronounced "Geary") was born and raised in Sydney, Australia, and moved to the United States in 2001 with his wife, Kristen, who is a native of Manhattan, Kansas. He completed his Doctorate of Veterinary Medicine at Kansas State University in 2009, and after practicing as a veterinarian in the state of Washington decided to move back to Kansas to establish Compassionate Care Mobile Veterinary Service in 2011.

Dr. Geri feels that genuine compassion is the most important component of excellent veterinary care. His conviction is that his medical expertise is most completely available to clients by being truly present with them through careful listening and genuine care for them and their pets. This is challenging in a busy small animal clinic, and Dr. Geri feels that the more traditional practice of veterinarians visiting patients in their homes enables him to better provide the care and attention his clients deserve.
Dr. Geri lives with Kristen, his wife and dearest friend. Their interests include films, reading, singing, music, good food, enjoying nature, serving at their church, and getting to know people. They are blessed with four children.